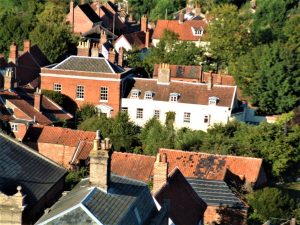 The Music House from the top of St. Mary's Tower.
Bungay – named by the Sunday Times in 2018 as one of the best places to live in the UK – has many charms which the casual visitor will discover all too readily.
But delve deeper and more will be revealed!
Bungay resident, Edda Abbagliati, lives in The Music House, an historic building in pretty Bridge Street.  Adjacent to it, and once part of it, is Bridge House and it was here, in the 18th Century that the Reverend Ives lived along with his wife and their daughter, Charlotte.  And it was here that the notable French aristocrat, François-René de Chateaubriand, having to recuperate after an accident with his horse, stayed whilst in exile from the French Revolution. And it was in the Music Room that Francoise-Rene and the young Charlotte spent much time together, he as her tutor, she playing the piano for him.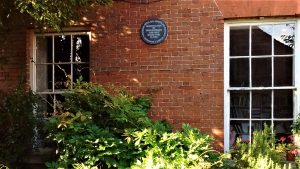 The Music House with the Chateaubriand blue plaque.
Chateaubriand was a prolific writer as well as a military man, politician and diplomat. In addition to six volumes of memoires he wrote several novels, translated Paradise Lost into French and published numerous essays.  He is credited with being the founder of French romanticism.  Romanticism, as any reader of Wordsworth, Bryon, Blake or indeed any of the English Romantics knows, places emphasis on how the world is experienced through the emotions.
And it is the emotions of both Chateaubriand and the young Charlotte (aged 15 or 16) that imbue the experience Edda Abbagliati brings to a visit to her house.
Edda will tell you the story of this "great love that could not be", while you can fly with your imagination, while sitting in the room where Chateaubriand and Charlotte met every day to study and play the piano… and fell in love …but the story is much longer and romantic….
Edda, like Chateaubriand, is much travelled and fluent in several languages.  She has a Spanish degree in Hospitality and Tourism Management and runs her own consultancy. In 2005, she opened her own International Etiquette Academy in Milan.
After moving to Bungay with her partner, Richard, on learning the fascinating history of her house in Bridge Street, Edda conceived the idea to help the interested visitor learn of Bungay's secrets through a focused itinerary that takes small parties from the Butter Cross, around Bungay, and back to The Music House for a three course lunch (or drinks and nibbles in the shorter tour) and, of course, the story of Chateaubriand and Charlotte.   There is also a dossier with photographs and more history, including accounts of the period from other local writers, available for visitors to peruse whilst enjoying Edda's hospitality. (This material can also be emailed to visitors).
~ ~ ~ ~ ~ ~ ~
Edda is an excellent hostess and cook, but unlike Chateaubriand, has yet to name a cut of steak after herself!
This experience, lasts 4 hours and starts with a guided walk with Edda through the highlights of Bungay which takes between 1 hour and 1 hour and a half.
Comfortable shoes are called for, as the stairs at the Music House are fairly steep, but also for the walk.
This experience is for between 2 and 4 people with a minimum age of 15 years old. Whilst Covid restrictions are in place Edda prefers conducting her tour for couples only, but it's best to check with her.  Sorry, no pets!
~ ~ ~ ~ ~ ~ ~
The cost is from £48 per person and you can book though Airbnb here.
~ ~ ~ ~ ~ ~ ~
There is also a streamlined version of the Experience which includes:
• 1 hour and a half walk through the highlights and secrets of Bungay
• Visit to the Music House and its unique history
• Drinks and nibbles while visiting The Music House
• A map and tourist information of Bungay
The cost is from £38 per person and you can book through AirbNn here.
Both experiences start at 10am and visitors are advised to bring:
• A mask. The use of mask is mandatory during the walk and inside The Music House, except while eating
• A camera
• Comfortable shoes
• An umbrella, depending on the weather