Though tiny, Bungay Museum is packed full of interesting artifacts from Bungay's past, all organised around a timeline that starts with finds from the Paleolithic era.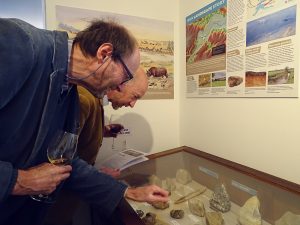 The Museum is located in the in the same building as the Council offices in Broad Street. (Up a short flight of stairs, so sadly inaccessible to wheelchair users at present)  It was established by Dr. Hugh Cane (who was instrumental in establishing the Castle Trust which works so hard to make the Castle ruins a delightful – and safe – visitor attraction) and officially opened by Lilias Rider Haggard, daughter of the writer Sir Henry Rider Haggard, in 1963.
The initial collections consisted of items donated by John Gibbs, clerk of the Waveney District Council, supplemented with material from the Haggard family, and the family of Ethel Mann, the historian of 'Old Bungay'.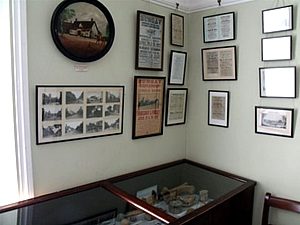 Paul Roe (who drew the original Town Trail map) has donated a number of archaeological specimens, and the late Frank Honeywood, the Town Recorder, (a post now occupied by Andrew Atterwill) provided many photographs, magazines, programmes and pamphlets.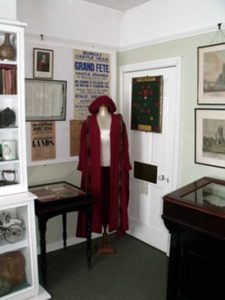 There is also a large collection of coins, including Bungay tokens, memorabilia connected with the family of the diarist John Barber Scott, a display case containing material relating to John Childs, the Bungay printer, Clay's printing-works, paintings, engravings and photographs depicting the town and local events.  There is even part of one of the original columns from the Butter Cross.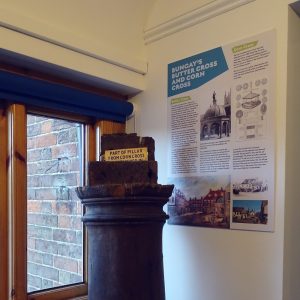 And here you can learn much more about the legend of the Black Dog of Bungay!
You can see around the town, especially in the street signs, a few signs painted in the style of the fingerpost sign below.  These were made by the firm of Rumsby,  Harold Rumsby and his sons were major ironworkers in the town, with premises, now private houses, located behind Earsham Street (behind what is now an estate agents, at the top of the street).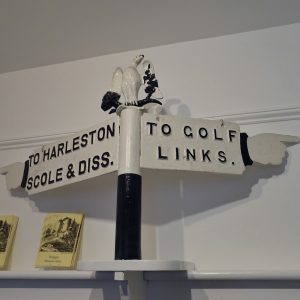 The Museum is managed by the Curator, Dr.Lorna Richardson, with Assistant Curator and local historian Chris Reeve along with the Museum Trustees.
Opening for the summer season on April 1st 2023, the opening days and times are:
Thursday: 10am – 3pm
Saturday:  10am – 1pm
Sunday:     10am – 1pm
More information here.