Heritage Calling is an Historic England blog. Imagine our surprise when we found that Bungay's street signs featured in one of the entries!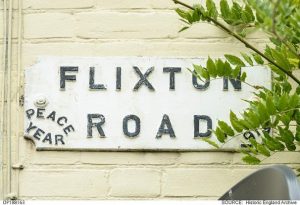 The blog discusses how we still see echoes from the Great War in our architecture and street furniture. Bungay commissions Harry Rumsby's Ironworks to cast new street signs depicting the Peace date.  If you look carefully you can see the Rumsby name on much of Bungay's ironwork – look out for storm drain covers and gratings.
The article can be read here.
Rumsby's ironworks started as Daniel Cameron's Waveney Works, which opened in Earsham Street in 1815. It produced stoves, firebacks and smoothing irons as well as agricultural machinery, including ploughshares.  When Daniel Cameron died in 1900, Harry Nathan Rumsby, an employee, took over the businesses and he was succeeded by his two sons.
Rumsby. Waveney Ironworks, continued operating, from the same premises in Earsham Street until 1966 when the remaining son, Cecil, died.
The site of the ironworks, on the south side of Earsham Street, tucked behind a shop and some houses, is now private housing.
(From Bungay at Work by Christopher Reeve)