Food & Drink Street Market
October 15 @ 9:00 am

-

4:00 pm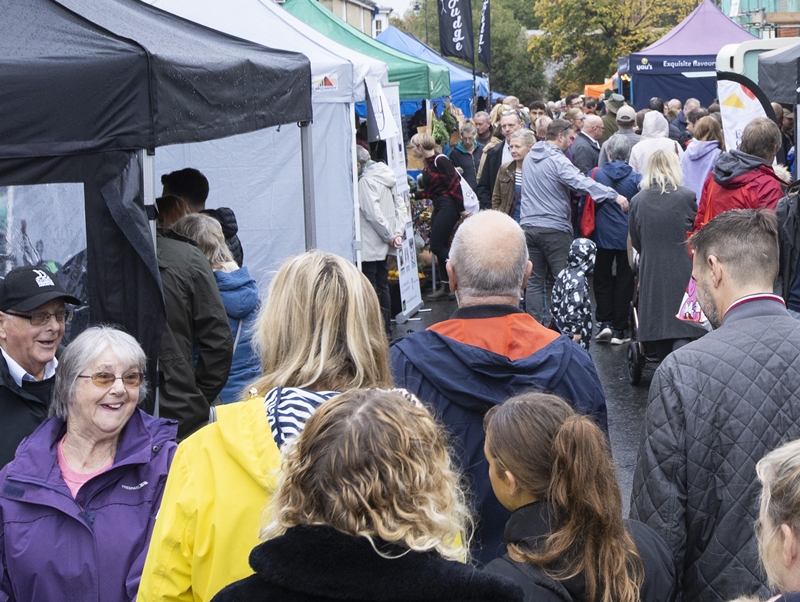 Sunday October 15th sees the return of the Food & Drink Street Market which launched in 2022.
This time it is even bigger with over 60 stalls selling all things culinary!  From rare breed meats to organic veggies, street food, all sorts of sweet treats, our locally produced wines, beers and spirits as well as teas and coffees there is something for everyone – either to eat on the street or to take home.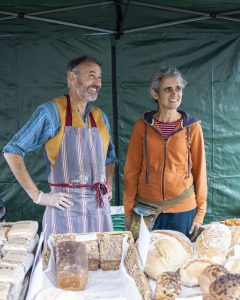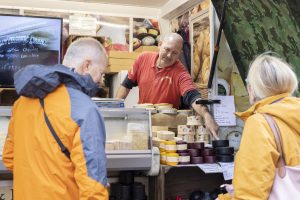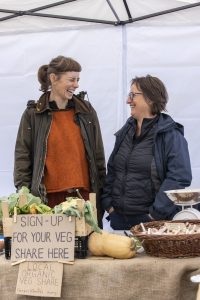 At the Earsham Street end of the street we'll have the Local Flavours cookery theatre with demonstrations throughout the day and at the Butter Cross, Park Radio will be joined by stalls from Bungay Town Council and Bungay Museum as well as Food Savvy who will be there will lots of information on preventing food waste and home composting.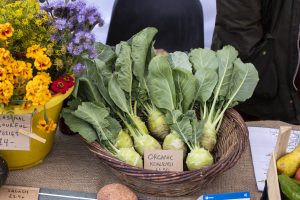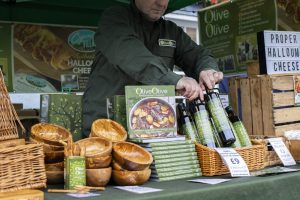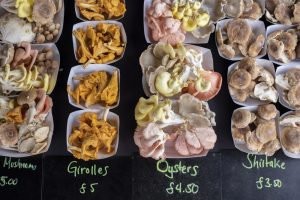 What's more – Bungay, rapidly becoming a market town with a reputation for good food and drink – will be launching its new Food & Drink Trail at the market!
STREET MARKET INFO
Parking:
Outney Common Golf Club car park
Wharton Street car park
Priory Lane car park
Health Centre (top of St. John's Road)
Bungay Primary School, Staithe Rd./Wharton St. entrance
(suggested donation for Golf Club & school care parks – £3 for the day)
Public loos:
Cross Street
Priory Lane car park
Cashpoint:
At the Council Office in Broad Street
At the Co-op at Hillside Road East
Cashback at Bungay Shopper, Market Place
First Aid:
Junction of Earsham St. & Chaucer St.
Who is where? Here's a list of all of the fabulous traders who will be with us on Sunday!
South Side
| | |
| --- | --- |
| Kings Head | Hog Roast – classic, a street market fave |
| Laundrette (left of door) | RSPB – for bird lovers |
| Laundrette (right of door) | Love my Fudge & Shakes – us too |
| Musker Mackintyre (left of door) | Home Farm Gin |
| Musker Mackintyre (right of door) | Sea Green soap |
| Outside No. 5 | Fiano – excellent restaurant |
| Crocks House (up to 1st window) | Cheese & Pie Man – a market fave. |
| Crocks House (2nd window) | Cheese & Pie Man |
| Crocks | Crocks |
| Crocks (window to right of shop door) | East Norfolk Cider – lovely cider |
| Crocks Lamp window | Bull of the Woods – locally brewed beers |
| Earsham St. Café 1st window | Hilton Macarons – all colours & flavours |
| Earsham Street Café left of door | Nikkis Homemade Preserves – fabulous |
| Earsham Street Café (right of doorway) | Earsham St. Café |
| Wooden gate | The Stump Up – for the home |
| Castle House – (left of doorway) | German Sausage Co – they're known for it! |
| Castle House – (right of doorway) | Simons Table  – marmalade – some with gin! |
| Mouse Shop -­‐ Mouse pitch | Maisebrooke Farm – excellent game |
| WH Brown | Fen Farm – with St. Jude – the best cheeses |
| Beauty salon left of door | Hodmedod's/Pete the Baker |
| Beauty salon | Black Dog Deli |
| Drive | |
| Palfrey & Hall | Alkemy Distillery – magic spirits! |
| A Sweet for You (left of door) | Bagel or Beigal – loaded bagels |
| A Sweet for You (right of door) | You Drink – if you like a tipple |
| Residential House (left of door) | Churros & Chorizo – the best street food |
| Residential House (right of door) | Oh Fudge – classic fudge |
| Bus stop | Sunday Charcuterie – home cured meats |
| Castles (left of door) | Chet Valley – local wines |
| Castles (right of door) | Castle Inn |
| Private house | Tuga's Flavours – Portuguese rotisserie |
| Fish shop | Stardust Spirits – all the spirits! |
| Little Green Wholefood Shop (leave doorway clear) | Tea Apothacary – fabulous real tea |
| Little Green Wholefood Shop (right of door) | Tini's Fudge – new to the market |
| Mermaid Fish and chips (left of door) | Norfolk Doggy Deli – don't forget the dog |
| Mermaid Fish and chips (right of door) | Pure Vida Pans – from the Med. to Bungay! |
| Earsham Street Deli | Earsham St Deli |
| Art Shop (left of door) | Flint Vineyard – very local wine! |
| Art Shop (right of door) | Wakelyns Real veg – beautiful veggies |
| Drive | Poke Nom – delicious rice bowls |
| Estate Agents | Walnut Tree Distillery – gin, gin liquers |
| End of the street | Cookery Theatre – lots of great chefs |
North Side:
| | |
| --- | --- |
| Three Tuns | Syms Pantry – bacon relishes! |
| Three Tuns | Dust with Cocoa – lovely fudge |
| Three Tuns | Rough Stuff Oak – for the home |
| Bungay Computer (right of door) | Elise Bakes – cakes and bakes |
| Bungay Computer (left of door) | Earthglade – for the home |
| Empty shop | Quaves Lane Patisserie – cakes and bakes |
| Empty shop (by wall) | Clinks Care Farm – farm grown |
| Barbers | Fabulous Fungi – mushroom magic |
| Muse (right of door) | Tea & Coffee from the Event Team |
| Muse (left of door) | Muse |
| Cork Bricks (right of door) | Olive Olive – olives & real halloumi |
| Cork Bricks  (left of door | Bonnie Yau – sauces |
| Cadge & Gilbert | 29 Degrees chocolate |
| Bus Stop Layby | Yorky Shack – loaded yorkies |
| House, front of red door | Old Felixstowe Brewing Co |
| House left of red door | Cakefinity – gluten free |
| House (Old Bank, no 18a) | Owies piggy porkers burgers & baps |
| House, door & window on right | Civil Block – gentlemen's soap |
| House, left of door | Ailsa's Fudge |
| Bahn Thai door and right of door | The Almond Kitchen |
| Bahn Thai left of door | St Peters Brewery |
| Last house before Chaucer Street | Flying Chef –  excellent hot dogs |
| Top of Chaucer Street (office) | Stow Fen – locally brewed beers |
| Top of Chaucer St (up to white door) | Eco Pebble – for the home |
| Top of Chaucer Street (white door to gate) | |
| House | FIRST AID |
| House | Front Room – pop- up cafe |
| Front Room | Front Room |
| No 11 Interiors | No 11 Interiors |
| New Beginnings gate & first window | Truly Traceable – excellent pies |
| New  Beginnings | |
| Little Black Dress shop | Tudor Bakehouse – pies & pastries |
| Giddens& Thompsons | Giddens & Thompson |
| Bells of Suffolk | Bells of Suffolk art gallery |
| Post Office | The Bucket List – loaded fries |
| Post Office | Coffee Rush – great coffee |
| Post Office | Amandas Brownie Bakes |
| Outside no 44 | Amazing Crepes – amazing crepes! |
| Outside white set back house | Tikka Tonic Indian street food |