Back to listings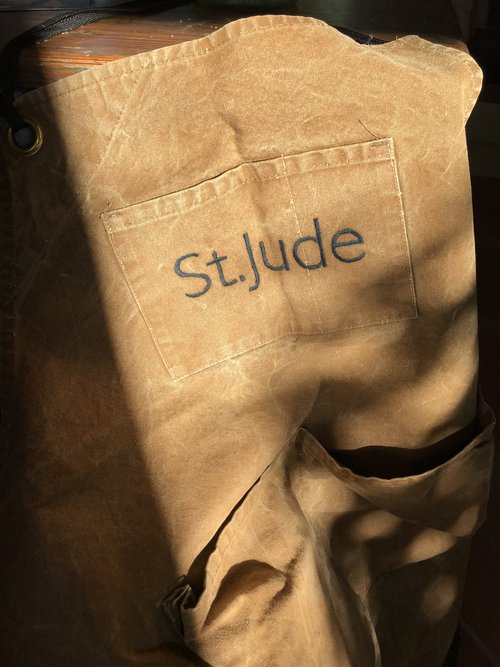 St. Jude Cheese
Food & Drink
St. Jude's award winning cheeses are made from the fresh milk of a single herd of Montbéliarde cows at Fen Farm. All the St.Jude Cheeses are handmade by Julie & Blake Cheyney in small batches with great care & passion in a collaboration with the Crickmore family, who run Fen Farm.
St. Jude is a small, soft, mould ripened cheese with a soft paste and flavours that are influenced with the seasons according to the cow's diet. The sister cheese, St.Cera, is a washed rind version of St.Jude which develops stronger flavours with a pink/orange blush to the rind. We also make a curd, St.Jude Curd and also now their newest cheese, St.Helena - a washed rind semi-soft cheese.
Making a lactic style cheese is a slow, gentle process with a more fragile curd than a rennet based cheese. It is a time to be careful and thoughtful, a time to enjoy the warmth of the cheese room and milky scent of the curd. The fermentation process, from when the cultures are added to start the acidification of the milk, can take up to 24 hours before we ladle the curds. Conversely, the ripening of the formed cheese can be quite short as St.Jude can be enjoyed as young as 10 days old maturing into more complex flavours at up to 6-7 weeks old.

Cheese is available to purchase from The Milk Shed at Fen Farm alongside Fen Farm Dairy produce as well as many stockists around the country, including the Earsham Street Deli in Bungay.


Fen Farm, Flixton Road, Bungay, Suffolk, NR35 1PD
Monday06:00 - 20:00
Tuesday06:00 - 20:00
Wednesday06:00 - 20:00
Thursday06:00 - 20:00
Friday06:00 - 20:00
Saturday06:00 - 20:00
Sunday06:00 - 20:00