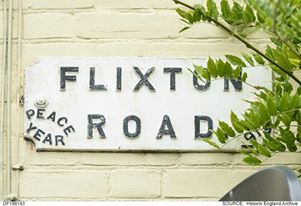 The theme for this year's Festival is Peace & Love! And Bungay in Bloom have taken that to heart and you will see all the town's planters, tubs and hanging baskets in psychedelic colours this year.
But, this being the anniversary of Peace Year we thought it only fitting that the planters around the war memorial should all be white.
Peace Year was also marked – at the time – by so many of Bungay's street signs. You can see the date, 1919 on many of them and some with Peace Year on them too. They were forged by the Rumsby of Bungay, the famous iron works.