Bungay residents have been intrigued by pieces of art in various whimsical forms appearing around the town.  They are the creation of Lockdown Love – but who are Lockdown Love?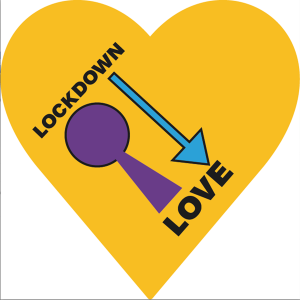 Lockdown Love is an art project created to bring joy fun and whimsy around the town. There are 5 projects to be installed, and the two already in place are 'Got that song stuck in my head', and 'Little tiny lockdown tutus'. The goal of the first was to hear at least one person smile at the signs, and sing the songs. The fact that someone made their own version of the sign absolutely sums up the essence of this project. Lockdown Love can be contagious. The creator thinks there is something beautiful about this, considering the shape and movement of the current pandemic – positivity runs parallel to negativity, and we can choose which one to interact with. The second project also gained positive feedback on Facebook (Lockdown Love.) and Instagram (lockdownlovebungay).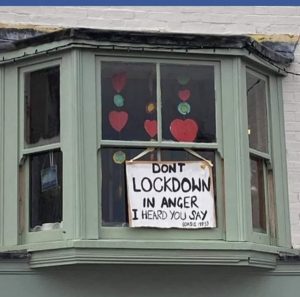 It is working with other local creative people to produce these moments of whimsy in the Bungay streets. The third fourth and fifth projects are equally as amusing, and lockdown love can't wait to make these happen. The anonymity is necessary to show that in times of loneliness and isolation for some, one can still be a part of something without having to be associated with certain committees, people, groups or teams. It is ok to be fearful to join in at a time like this, but we are all able to enjoy these projects in our own time, on daily walks, with or without others. A few people in the town know of the creator, but they would very much like this secret to be kept!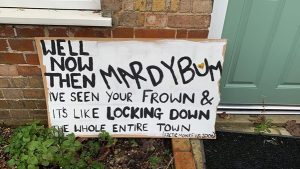 Lockdown Love is so happy with the response shown by the town already and hopes the next three projects will run smoothly! Lockdown Love would very much like to get in touch with the Fisher theatre for project 5, although it's hard to make contact when everywhere's shut! Project 3 is soon to be in the making, and 16 letters will be sent out on Saturday 23rd  January.  Lockdown Love really hopes people will respond to these letters and get involved to produce a series of small authentic pieces created by Bungay households.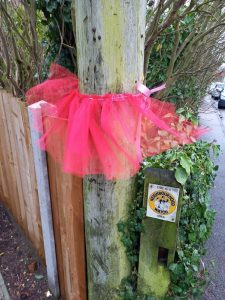 Who's up for the challenge – who will join our Bungay Banksy and join in on Lockdown Love?