We are excited to announce that a new pilot bus scheme will be running each Thursday from Thursday 28th October until early February,  connecting all of the parishes in the Saints (both East and West) to Bungay on Market Days! The fare is just £1 each way, payable to the driver.
The service is being run by the team at BACT who have now received their license from the Ministry of Transport.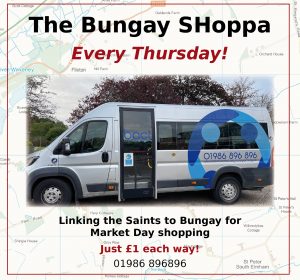 The route is from Bungay town centre to Wainford and the Ilketshalls back to Bungay on the Eastern route and from the town centre to Ilketshall St Margarets, South Elmham, Rumburgh, Homersfield, Flixton and back to Bungay town centre on the Eastern route.  The return journeys allow for people to spend a good two hours in Bungay to shop, have lunch, meet friends.
At last – no having to worry about finding somewhere to park or relying on a lift just to get to Bungay! 
There is a designated route and timetable – with leaflets being sent to every household in the catchment area – but people can flag down the bus when they see it between stops, provided the SHoppa can stop safely.
And there will be wheelchair access.  But people will need to ring BACT first to make sure the driver can make the necessary adjustments to the bus and the wheelchair must be of the sort than can be clamped down.
This is a pilot scheme, with funding from the East Suffolk Community Partnership and from East Suffolk Council and passengers will be asked to complete a feedback form.  If successful – we will be seeking funding to make the Bungay Shoppa permanent.  And who wouldn't want to ride it in the summer for a lovely trip around the Saints!