Future Primitive – Art Exhibition @ The Fisher Theatre
September 17 @ 10:00 am

-

November 6 @ 3:00 pm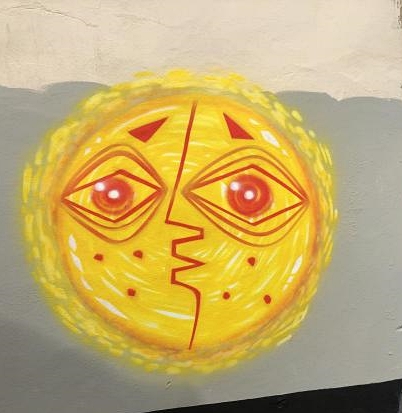 It would look more appropriate on a flyover!
I really liked it thought provoking colourful full of energy
What's it meant to be? Lol
Awful. Please wash them off. Why is this allowed?
I think they are amazing,
Agree with artist look great ignore the beige brigade who prefer drab single colour boring walls.
These are just some of the comments from townsfolk when they saw the wall art Vinnie Nylon created around town.

(Pics: Beccles & Bungay Journal)
The controversial street art pieces herald a new exhibition of the artist's work at The Fisher Theatre this autumn.
With a highly successful exhibition in a leading Tokyo gallery earlier this year and represented in London and Miami, not to mention numerous pop-up appearances on public wall spaces around the country, Vinnie Nylon is rapidly gaining a reputation as one of Britain's leading mid-generation artists.
Expect an exhilarating display of 2- and 3-D objects and assemblages, often using found objects, and all painted in an exhilaratingly visceral style, one that often mixes thickly applied paint with sand, sawdust or metal rust.
It is Vinnie's highly distinctive way of working, and one that reflects his particular passion for modernist figurative art of 20thC art from the post war period to the late 80s.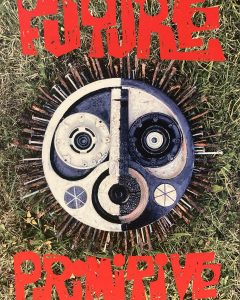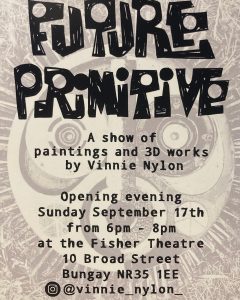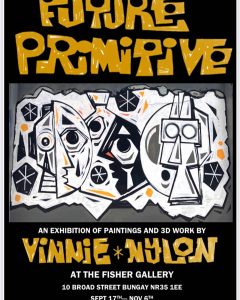 Entry to the exhibitions is free and the Gallery can be viewed Mondays to Saturdays 10am-3pm – when the box office is open and there are no events taking place in the gallery.
Also Wednesdays to Saturdays 6pm-10pm – when there is a show on.
If you are travelling any distance, please call the Theatre to check that the gallery is open:
Box Office: 01986 897130
Administration Office: 01986 895367