Munnings – A Waveney Artist at War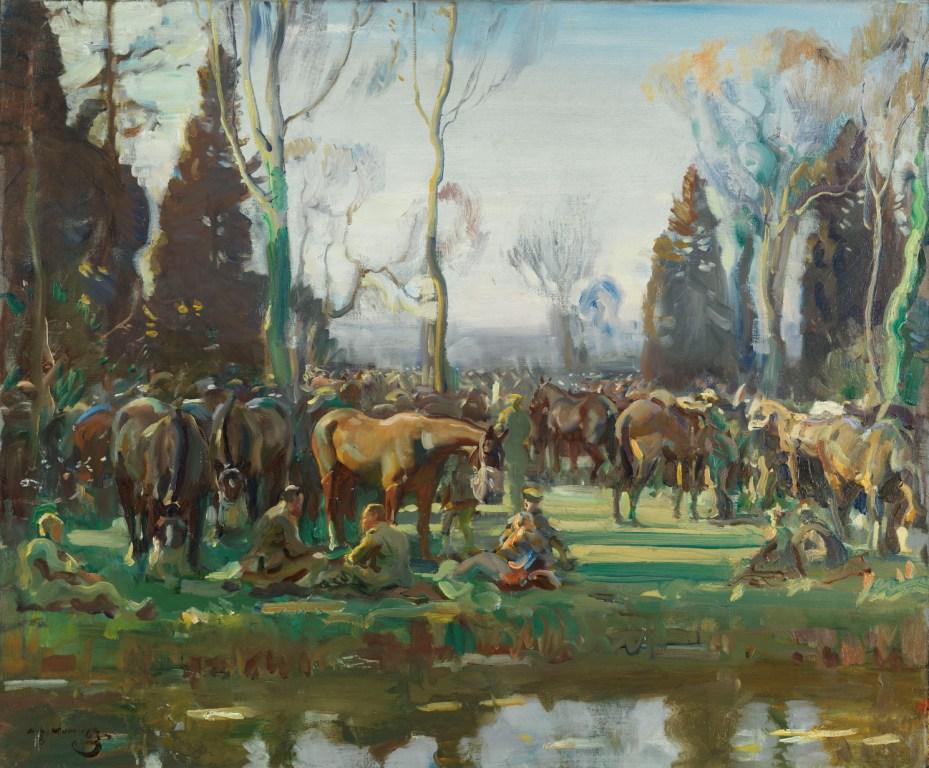 Bungay is pleased to host an exhibition celebration our most famous local painter Sir Alfred Munnings (1878 – 1959). Munnings born in Mendham and was the son of the local miller.
Due to a disability Munnings was rejected for active service in the First World War, but he was appointed as an official war artist by the Canadian Government to paint their cavalry brigades in action. Serving in eastern France with the Canadian Expeditionary Force in 1918, Munnings sketched and painted landscapes, battle scenes and horses to document life on the fighting front and the vital work taking place behind the lines. After the War in 1919, forty-five of his paintings were exhibited and created an immediate sensation, attracting the interest of royalty and the aristocracy.
The Munnings Art Museum at Dedham is currently staging an exhibition entitled "Behind the Lines Alfred Munnings: War Artist, 1918" consisting of forty-one paintings returning from the Canadian War Museum, Ottawa for the first time in 100 years and shown side by side with the surviving sketchbooks from the museum's own collection. The reproduction paintings and narrative boards on display in Bungay replicate a part of the exhibition at Dedham which runs until 3rd November 2019.
In addition, we are pleased to exhibit reproductions of a number of Alfred Munnings paintings with a local or Waveney theme, some of which depict the famous horse racing on Outney Common.
Friday 23rd August, 7.30pm  – Preview Evening with Speaker and Reception (free, but please book in advance)
Saturday 24th August – Sunday 1st September – 10am – 4pm
Sunday 25th August, 4.30pm – Afternoon Tea and Presentation (Admission £5, please book in advance)
Booking: John Warnes, 01986 892855 or Keith Parker  01986 893133