The Town Council offices in Broad Street will be open again from 2nd September, having had the beautiful windows on the upper floor repaired.
The reception area will be open to the public from 10am to 1pm, Monday to Friday. Signs will indicate that visitors must wait and enter one at a time, unless they are from the same household. Face coverings will also be made available to anyone who needs one, and these must be worn whilst inside the building.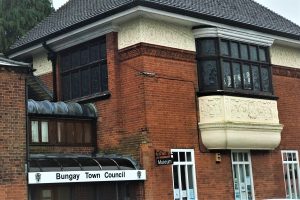 The Town Council offices in Broad Street
The Riverside Centre, at the Staithe in Bungay, is also reopening on September 2nd, having undergone a deep clean.
 It is a popular venue with local community groups who offer activities such as Yoga and Art classes, a Knitting group, and will amongst others hopefully once again accommodate the Bungay Choir when future government advice allows this type of use. Social-distancing requirements allow the hall to accommodate up to 30 people, divided between two main rooms, and all facilities have been deep cleaned and prepared with hand sanitiser stations, and include a safe area should anyone fall ill.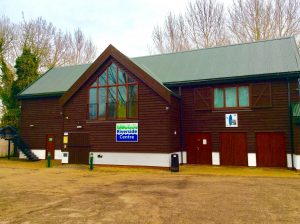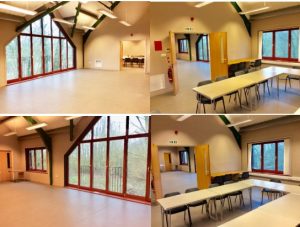 The Riverside Centre – outside and in.
Full details of how to book The Riverside Centre can be found on the Bungay Town Council website: https://www.bungaytowncouncil.gov.uk/location-facilities or Telephone: 01986 894236