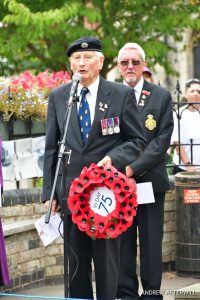 Photo by Andrew Atterwill, the Town Recorder
VE Day in May had to be celebrated individually and many in Bungay (and across the land) festooned their front gardens with bunting and held their own tea parties.  We all raised a toast to those who had served in our own ways.
VJ Day came after lockdown restrictions were lifted but it was felt by those on the organising committee that a simple commemorative plaque unveiled at a simply ceremony at the War Memorial would be the most appropriate.
The event was filmed and made available for those who were unable to be there by Linda Howe and Tony Dawes from the Bungay branch of the Royal British Legion.
You can view it here.