Imperial Wine – Bungay's independent fine wine merchant in Trinity Street – has teamed up with the Harleston & Waveney Art Trail local artists' group to showcase their work on a monthly basis.
HWAT, which includes artists around the Waveney Valley usually holds open studio days throughout the year but of course Covid restrictions has seriously impacted that as well as curtailing their ability to hold exhibitions.
This is a wonderful opportunity for the local HWAT members to display their work.  And art lovers enjoy a nice glass of wine too we're sure so this is a win-win for HWAT and Imperial!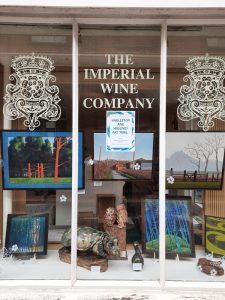 For more information about Imperial Wine visit their website here.
For more information on the Harleston and Waveney Art Trial visit their website here.
And … exciting news!  One of the HWAT artists, Paul Zawadzki, is opening his own gallery in Upper Olland Street Bungay! You can see one of his paintings in the image above – but we're not saying which one!